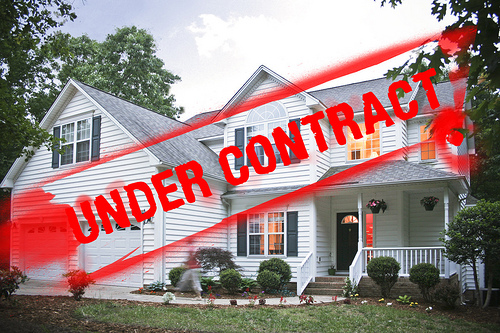 The house is under contract!
Soon after the listing went on today's sizzling hot market, you received several offers and, a few hours of negotiations later, it's under contract!
Cause for celebration right?
Wait, it's not over yet. In fact it is far from being over. Here is where your work as a realtor starts if you want to minimize the risks.
After all, you've eliminated all the other options and selected that one winning buyer. If this deal falls through, most of everything you've done is thrown out the window. You would have to put the house back to the market and redo almost everything – with the same amount of pay and a much less happy seller.
What can go wrong?
Many things can go wrong if they are not predicted and managed. In the next 30 days or so, there will be fast-moving details  related to the property, the inspections, the title, the buyer you've selected, the loan and the source of funds, the lender, etc.
Due to the large check amounts and funds about to change hands, many people will "touch" this transaction. Legally binding deadlines, known as contingencies, have to be observed and managed to perfection. On top of that, your client – the seller – will be both hopeful and nervous. They are ready to hold your feet to the fire to close the deal smoothly.
The secret to a smooth closing
While you cannot control the outcome of every detail in a contract, you can totally manage your client experience from contract to close. An experience is made up of a client's feelings about every touch point they have with you and your service. There will be many touch points during this critical period – phone calls, messages, discussions and negotiations, etc.
Keeping clients informed and advised before they have to ask will be your secret to a smooth close. Your clients will not just appreciate you being on top of every matter, they also have plenty of time to prepare and react if necessary before those critical deadlines approach and possible wreak havoc with the closing.
Staying Connected from Contract to Close
A well-informed client is a happy one. The AgentMemo platform is designed exactly for this purpose.
The Transaction Memo features offer a rich experience to your clients, allowing proactive interactions between them and your team. Every activity and status change can be updated in minutes and sent to your clients before they have to ask. Secure and instant communications, reports and attachments, scheduling and calendars are just some of the features available to clients anywhere anytime.
It's Showtime
Turn the next 30 days or so into Showtime. Think about the new experience you will deliver to your clients and their family, and also reinforce the reason they have selected you to represent them in possibly the largest financial transaction in their life.
Use AgentMemo to keep clients advised 24×7. It's easy and it's free.
Are you ready for Showtime?