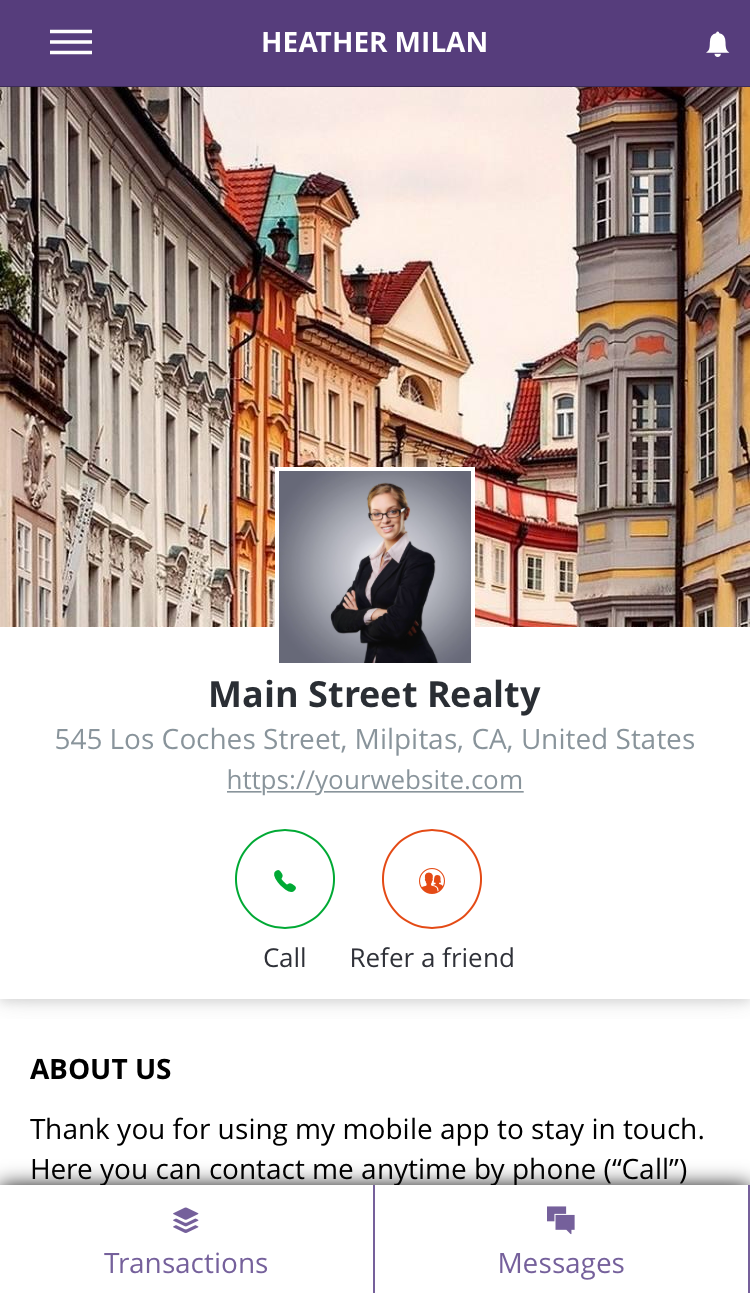 TALK ABOUT YOUR NEW APP
When users call up your app, they will see a splash screen for about 5 seconds then your app's Home Screen. The splash screen should include your portrait picture or logo, and a graphic that you like (usually about real estate or whatever you like).
On the next screen is a text area that contains your message. We suggest you talk about your app and what they can do with it since this is a very new tool in the industry, and most users have probably not seen it offered by other agents. Start with this template, and you can modify it as you wish on the web dashboard:
About Us

Thank you for using my mobile app to stay in touch. Here you can contact me anytime by phone ("Call") or texts ("Messages"). The messages will not be counted against your carrier's allowances.

You can also monitor all your transactions – Listings, Purchases and Mortgage Applications. Our team provides constant updates so you can always be advised 24/7. Your personal data are stored in the cloud, completely secure and safe with us; they are protected using the latest encryption and security technologies.

From time to time, I will be sending out market updates, which you will be able to view under "Announcements".

Besides offering the best real estate services possible, we also want to give you the latest tools to enhance your experience doing business with us. Please refer your friends to download this app via the one-click "Refer a friend" so that they can immediately enjoy the newest and most advanced digital experience in the industry.

I thank you for your business. Let me earn a lifetime relationship with you via my personal service and commitment to you.

(your name)
READY TO IMPRESS YOUR CLIENT?